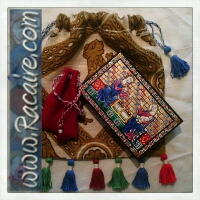 I am very excited! After all the detailed photo tutorials for this project, we finally reached the very last step of the fast and easy pouch tutorial.
…and yes, also this posting is again about tassels. They are (and will always be) one of my favorite medieval embellishments – especially when it comes to embroidered pouches. 😀
How I made the tassels for the bottom of the pouch was already the topic of the last posting. In the following photo tutorial you can read about the handling of the drawstrings for this pouch. In addition you will also see how I attached the tassel securely to the drawstring.
Todays motto is:
"Pouch drawstring & how to attach a tassel to the drawstring"