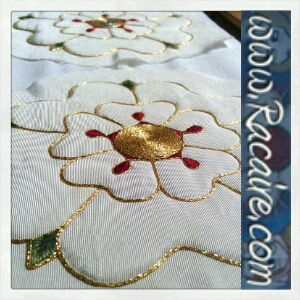 I know, it's about time for another update concerning the 14th century hood project with rose embroidery for my friend Elisenda.
Well, what a great coincidence as I just managed to finish the third rose for her hood! …and not only that, I already started working on the fourth rose! 😀
Despite the small set-back due to the work on my arming coat and a knighting scroll for a friend, I never ceased to dedicate every spare minute to the embroidery for my friends 14th century hood project.