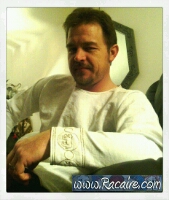 Finally I can declare the 13th century under tunic project for my sweethearts 12th century wedding clothing project finished. And the expression on my husbands face every time he wears his new hand sewn 13th century under tunic assures me that this project is a great success. 😀
The construction of the 13th century under tunic pattern was a rather long process but I really learned a lot concerning the differences between male and female clothing while working at this project. Especially because I never (hand) sewed a period male garment like this before. It took several alterations to the measurements – especially of the body part – but it was totally worth it. I am very glad that I never gave up, regardless how frustrating some steps of the final fitting process were for me.
Now I have the perfect pattern for a very tight fitted 13th century under tunic for my sweetheart. Though it might be too tightly fitted for SCA heavy fighting, this under tunic will serve him as a great garment for all other activities during the day. Well, I admit it, I am somehow glad that he can't use his under tunic for fighting activities and cause damage to the embroidery… 😉
During the last days I already started hand sewing like crazy at the very next project for his 12th century wedding clothing – the 12th century silk over tunic which will go over this 13th century under tunic. But before I can tell you more about the next project, I have to "close" this 13th century under tunic project and show you the final pictures of it.
Yes, I finally managed to take pictures of my sweetheart wearing his new hand sewn 13th century under tunic – enjoy the following pictures! 😀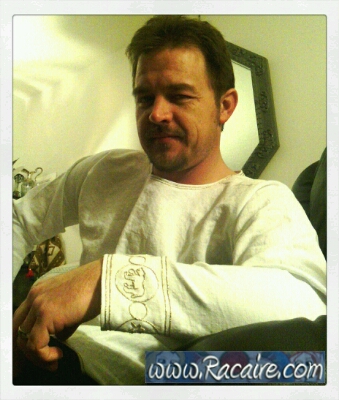 …I am sorry, but the following content is restricted to logged in members of my blog.
And now, that the 13th century under tunic project is finally and officially finished, I can tell you more about the 12th century silk over tunic I am working at in my next posting. I am hand sewing like crazy but I will try my best to catch up with the progress I already made. Yes, so much to do and just so little time until Gulf Wars… 🙂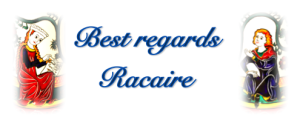 More postings about this 13th century under tunic project can be found here: