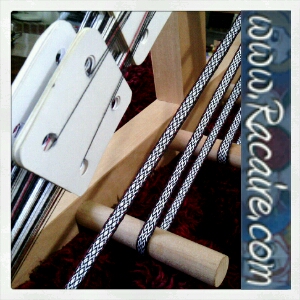 I was never really keen on tablet weaving but recently I had the feeling like I had to start another tablet woven band. And, well, therefore I started my third tablet woven band ever… 🙂
It is really odd – sometimes I feel a sudden urge to create something special even if it means that I have to pick up a craft I normally don't do or to learn something new. This feeling can be so overwhelming that I have no other possibility than to follow my gut feeling and to start creating…

And recently I again had such an overwhelming urge to create. This certain urge even surprised me quite a lot as I really wanted to make a tablet woven band. Well, what shall I say, some of you already know my usual feelings about trim – why shall I apply trim to my garment if I can embroider it… *lol*
But it seems that with every year that passes and gets added to my age, I tend to enlarge my repertoire and horizon a bit. Last year I made the very first tunic embellished with a tablet woven trim for my husbands christmas present for which I used some tablet woven band I made. Well, that's not completely true – my sister Martina actually started the band and when she gifted the weaving frame to me with the half finished trim.
I happily picked up where she stopped and finished the rest of the trim. Already when I was trying to figure out the rotating system she used to finish the first part of the trim I really learned a lot about the system behind the tablet rotation. I think it's really true – you learn a lot by simply trying to correct your own mistakes or by trying out patterns and correcting them until you get the correct pattern you are aiming for.
Well, I have to admit that I did not really start by Adam and Eve when I put my hands on her trim and my now very first own tablet weaving frame. I attended a really great tablet weaving class at my very last event in Drachenwald (SCA in Europe) – Double Wars, where I made my very first tablet woven band – thanks to the detailed instructions and very helpful assistance of my teacher. At this point I would love to thank her but I unfortunately forgot who was actually holding this class – but I definitely learned a lot and I think that it actually took away my initial hesitation for this craft.
And now, several years after creating my very first tablet woven band and nearly two years after I finished the tablet woven band my sister Martina started, I found myself with an overwhelming urge to pick up the craft again. A longing which made me want to start immediately with a new tablet weaving project. Well, I was stunned about this feeling but I was willing to comply. Therefore I took my only book about tablet weaving, my tablet weaving frame and some silk threads and refreshed my memory a bit. A quite simple tablet weaving pattern was found very fast and I started to thread my weaving frame (or however this process is called for weaving)… 🙂
I am really not ashamed to admit that I already miscounted after the very first turns. Yes, my husband can be quite a distraction at times. And he was quite amused when he heard my relieved shout after some time: "Yeah, I found the pattern again"… Well, that's how we learn, or shall I say – how I learn? Nevertheless this counting mistake gave me the possibility to play a little bit with the card rotation and the pattern.
And now let's take a look at the progress of my third tablet woven band – enjoy! 😀
…I am sorry, but the following content is restricted to logged in members of my blog.
…and in the next posting I will show you how I put my new, third tablet woven band to very good use. 😀