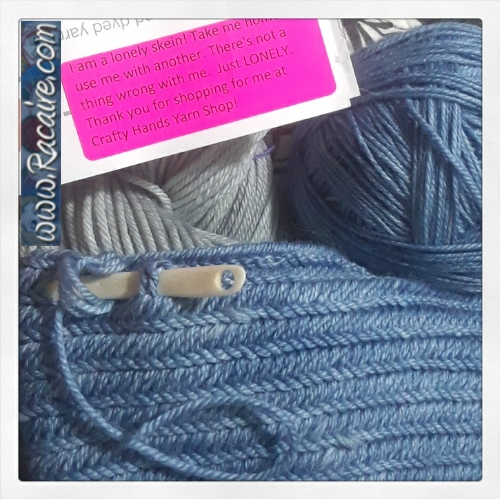 Yes, you see right, I've done some nailbinding again… 🙂
It is really nice to finally find a moment of peace which allows me to catch my breath. I feel like I just got off a roller coaster. The last year finished with quite a surprise and it was unfortunatelly not the kind one would normally appreciate.
After some initial struggles to find a doctor who would see me on short notice around christmas, I finally received the information that I had to undergo a small surgery. And though the thought scared me quite a bit, I was at the same time also very thankful that my doctor could fit me into his quite busy schedule just two days later…
Well, it was my very first surgery and as you can imagine, I was quite frightened. My sweetheart did his very best to ease my concerns and stood by my side. However, to cut a long story short – I made it through the surgery without any troubles. Thankfully, due to some really good painkillers, I just barely remember the end of the last year and the first two weeks of the new year besides that I was really bored whenever I wasn't asleep.
I even started to nailbind this new cap as the painkillers made it hard for me to focus. Though I thought about it, tablet weaving unfortunately turned out to be too painful. Before you ask – yes, I thought about doing some embroidery too. But the one embroidery project I try to work on whenever I find enough time and peace – Talina' s 14th century hood – requires a great amount of delicate work and focus which was simply not possible. And I definitely didn't feel like going through my embroidery stash to start a new embroidery project.
However, as I figured out very fast, I really didn't need to. I knew where my nailbinding needle was and I had some hanks of some awesome wool which I recently "rescued" from the "I am lonely" bin at Crafty Hands, our local yarn store.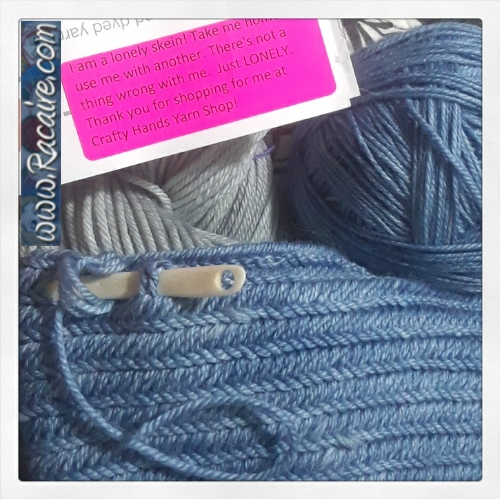 Yes, "Crafty Hands", our local wool and yarn store, is a very dangerous place for me. They have so many lovely yarns which I would love to take home but for the sake of my marriage and my bank account, I try to restrain myself as much as possible.
Not that I don't already have a quite lovely collection of many different yarns and threads. But, on the other hand, can a crafty girl really ever have too many threads, or wool, or beads, or fabric, or…?! *lol* Well, I simply call it collecting what could be useful for present or future projects. Though, I think, if you had asked my husband one or two years ago, he might have told you that I am quite a hoarder when it comes to art and craft supplies. And now that he gets used to getting nice things for himself, he became quite an enabler. *lol*
But back to todays topic. Nailbinding is an easy and quite rewarding technique which can be easily executed with just a big needle and some yarn… Though it might look quite intimidating at first, the system behind this craft is really very simple.
…I am sorry, but the following content is restricted to logged in members of my blog.
But however simple and exciting the nailbinded technique is and can be, even the most simple craft can be quite difficult if you don't know where to start or don't know how to do it. But don't worry, Ulrike Claßen-Büttner wrote a wonderful book about nailbinding which is available in German and which was recently also translated into English:
NALBINDING
What in the World is that?
by Ulrike Claßen-Büttner
…I am sorry, but the following content is restricted to logged in members of my blog.
So much about my little side project through my surgery recovery… So many projects and always just so little time….