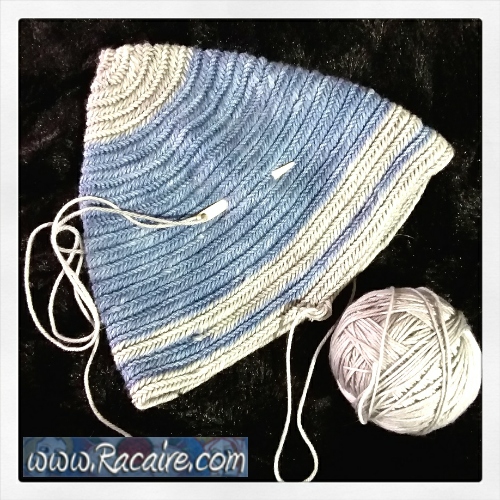 …and here is some more progress concerning my most recent nailbinding project – a nailbinded grey and blue hood. 🙂
I didn't have much time to work on my projects recently but I still try to achieve a little bit of progress every day. Nevertheless, I think that I won't be able to finish the hood before the winter is over but I don't mind as there is always another winter to come. 😉
Nailbinding is such a great technique – especially if one has just little time for it. I can put my nailbinding down at any time and then pick it up again and proceed whenever and wherever I like.
With just some practice the repetitive nailbinding moves can be worked very fast. To me the movement feels very natural and furthermore it also has a very soothing effect on my mind and mood. Sometimes it even feels like I am doing a magic trick. Though I am simply moving my needle and am pulling the thread through, I am still able to achieve a quite distinct looking pattern. And if I hadn't to look up the loops of the previous row, in order to connect the new row with the old one, I bet I could do the nailbinding moves even in the dark or blindfolded… 😉 *lol*
And here is a picture of the nailbinding progress till now: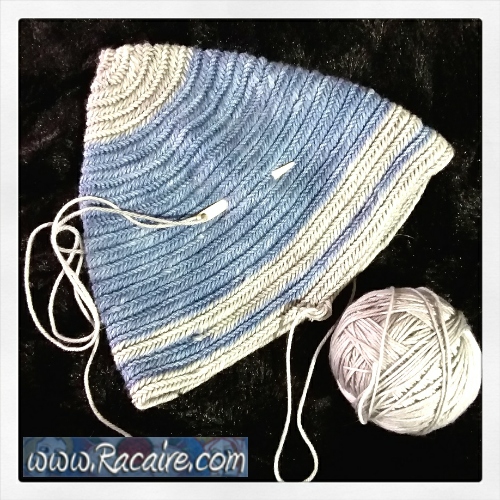 …I am sorry, but the following content is restricted to logged in members of my blog.
…but enough about nailbinding – as I call it – for today. I hope I will be able to show you the end result in just a few days so I can go back to my other projects. 🙂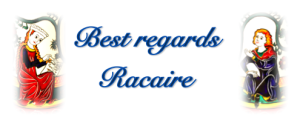 Btw. if you are interested into the nailbinding technique I am using, you can find a short step by step tutorial here: "A secret last-minute nailbinding commission & a short photo tutorial…"