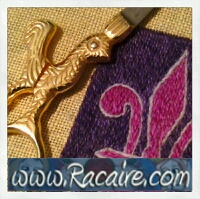 My recent 4day trip to Barcelona as well as the postings about my favorite Barcelona photos were a nice possibility to take a short break from my ongoing embroidery projects. This is one of my favorite ways to restore my energy and inspiration for new projects and postings.
But now it is definitely time to get back to my embroidery projects and my embroidery related postings with renewed power. And I am very glad to say that I just finished two hand sewn needle books with 14th century inspired Fleur-de-Lis Klosterstich embroidery. 🙂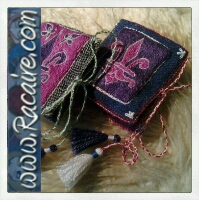 You maybe remember my recent posting with the sneak peek at the 14th century inspired Fleur-de-Lis embroidery in Klosterstich. As you can see on the picture on the left, I finally found the time to turn this 14th century inspired Fleur-de-Lis embroidery into small needle books.
They look so cute that I was really tempted to keep them for myself but I already have a needle roll and a needle book which mean quite a lot to me. Therefore I will add them to my "Travel & Largesse Fund". Well, this was anyway my initial plan for them… 😉
You might not believe it but this needle books are rather easy to make. Some of the steps concerning the creation process are very similar to the steps which I already described in my "Craft with Racaire – needle roll tutorial". But more about this in one of my next postings about this embroidery project.
However, todays focus is on the finished needle books and I took several photos of the needle books for you – enjoy! 😀
…I am sorry, but the following content is restricted to logged in members of my blog.
I hope you enjoyed the photos of my new needle books. I will add more about them and my other current embroidery projects soon. 🙂