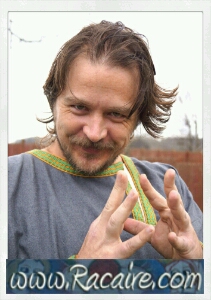 Todays posting about "how I made the counterpart for the 12th century neckline fastening and some other details…" brings us finally to the last progress pictures of the 12th century grey light-wool tunic project for my husband.
Though I already showed you my period inspiration for this quite special 12th century neckline shape and how my take on this special neckline form based on the 12th century neckline inspiration looks like, it seems like I neglected a quite important detail till now: the period inspired fastening and its counterpart…
Well, to be honest, the seed of inspiration for this particular project, like for so many of my other 12th century sewing projects, was planted by my dear friend and sister Ezabella several years ago. More than 10 years ago, shortly after I started playing in the SCA, I met this beautiful and inspiring lady on my very second SCA event in November 2014. While listening to her and taking pictures of her class about how to master the period veil properly, I fell in love with her kind and gentle personality, her knowledge about the 12th century and her greatly inspiring work. And I am glad to say that this admiration grew into a great friendship ever since.
I think that Ezabella was and still is the major cause why I and so many others fell in love with the 12th century. Her facebook group "12th Century Workshops by EzaBella", which she started some years ago, is still one of my favorite groups on facebook. And the link to the "12th Century Workshops by EzaBella" is normally the very first link I give to everyone who wants to get to know more about 12th century costuming.
Furthermore she is the main reason why I consider it a personal challenge to aspire towards recreating the most perfect 12th century attire I am able to create just to make her proud. Well, I guess that we all need our personal heroes to which we can look up to… 🙂
But to cut a long story short – some years ago my dear sister Ezabella posted some pictures of her tunic projects for her husband which were just adorable. Though I didn't have much cause to start a male tunic project myself due to lack of a male companion playing in the SCA, I didn't forget about them… And then – eventually – I fell in love with my dear sweetheart, moved to Meridies and married. Well, being in love with a guy who actually plays in the SCA, I suddenly had a really good reason to think about tunic projects… *lol*
One day, while I was still in Europe and looking through the posts of my sister Ezabella on facebook, I saw a picture of beautiful period fastenings. I couldn't stop thinking about them and therefore asked a friend – Master Lorenzo – what he thought about them. And Master Lorenzo was so kind to make some for me. But it would take some more time until I finally put his lovely fastenings to work…
Looking back at my first sewing projects for my beloved husband, I kinda played it safe with round and keyhole necklines. This special 12th century neckline shape with the side fastening was a little bit intimidating as – like always – I wanted to make it proper and perfect right from the start… Yeah, my husband still wonders from time to time about my level of crazy when it comes to projects like this one…
And then, after countless nights of thinking about this special 12th century neckline shape and more thinking and again re-thinking it and looking at period examples, I finally did it! …and it was pleasing! There is definitely nothing better than finally putting a problem which bothered one for so long to rest! 😀
But enough about me and my little project procrastination in this case… To be able to use the beautiful period fastening Master Lorenzo made for my husband, I had to add a counterpart for the fastening at the neckline: 
…I am sorry, but the following content is restricted to logged in members of my blog.
I hope you enjoyed todays posting about how I made the counterpart for the 12th century neckline fastening for my husbands new 12th century grey light-wool tunic project as well as the other detail pictures I added. As soon as it gets cold enough that I get my husband to put on his new tunic again, I promise to take some pictures of the whole tunic for you.