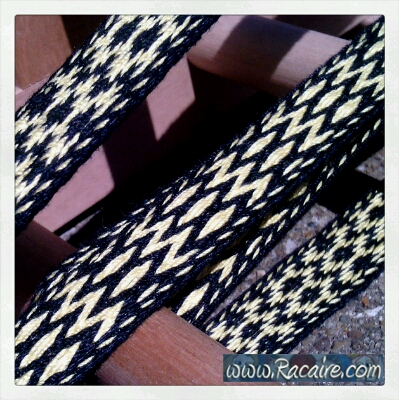 As you can see at the picture on the right, I started working at another tablet woven band. My 5th tablet woven band, to be exact. 😉
Tablet weaving is a very welcome break for me as it keeps my hands busy and allows me to recharge my batteries after the most recent scroll (King's champion, Rose Tourney & my husbands knighting scroll & vigil book page) and embroidery projects. Though I am still fairly new to this craft, I feel great when I rotate the cards and witness their magic as the pattern develops with every turn I make. I really love how this technique gives my mind the opportunity to simply relax and to think about past and future projects.
Furthermore this new tablet weaving project will help me to restock my stash as my last tunic projects/christmas gifts for my husband nearly used up my whole stash of tablet woven bands. That reminds me that I still haven't posted about my last 12th century blue/grey raw silk tunic with dalmatica neckline which I made for my husband as christmas present for last christmas. But no worries, this new 12th century tunic project is on my "I have to post about" list – I promise! *lol*
…and now back to my 5th tablet woven band: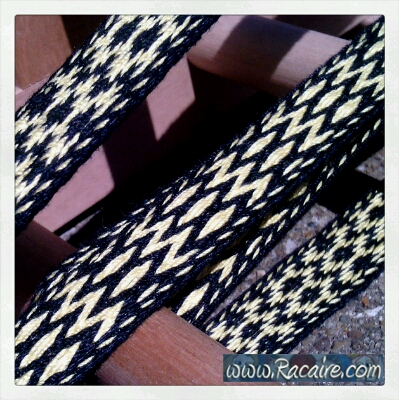 The pattern for this tablet woven band – "2. Little chicken toes with bird's eyes" – can be found in following book about tablet weaving:
Applesies and Fox Noses – Finnish Tablet woven Bands
Authors: Maikki Karisto & Mervi Pasanen
Photography: Riikka Sundqvist
ISBN 978-952-5774-49-8
96 pages, softcover
Available here: Salakirjat
…I am sorry, but the following content is restricted to logged in members of my blog.
Stay tunned! More about my most recent embroidery project will follow soon… 😀