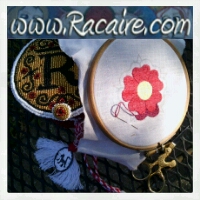 Again I have a new sneak peek picture of the most recent progress of my medieval rose worked in the Klosterstich embroidery technique for you.

It was not an easy process but I finally decided on a color for the border surrounding my medieval rose and started working at it.
After several additional hours of Klosterstich embroidery during the last days, this section is also finished now. It is really great to see that all sections are now filled with Klosterstich embroidery.