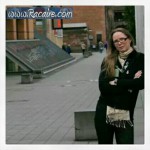 Woooohooooo! The new and also last embroidered section of my 14th century French pouch commission is finished!
…and what shall I say – I love it!
Tomorrow I can get the silk fabric for the back side, wash it and then start with the finishing – pinning, sewing, finger braiding, tassels,…
…but until then – please enjoy the new progress pic of my recent embroidery progress!