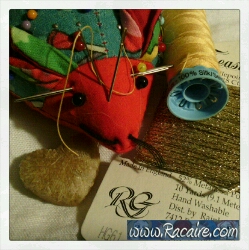 And after a lot of hard work during the last days, I managed to make even more progress concerning the sleeve embroidery for the 13th century tunic for my sweetheart – today I have embroidered shells and shields for you.

Yes, two shells and two shields already fill the first four roundels. That leaves just four more empty roundels which need to be filled – two on every sleeve.
The embroidered shells stand for my husbands SCA "Compostella" award and the embroidered shields for his "Argent Shield". I am going to add two bears for the "Legion of the Bear"/"Legio Ursi" and two comets for his "Argent Comet" next – this are the other two SCA awards he achieved till now.